Highly stable mechanical structure: the whole machine adopts stainless steel protective frame cover The aluminum alloy rigid frame is stable and does not rust.
Flexible choice of a variety of bottle types: round bottle, square bottle, oval bottle, etc. can be set, and bottle mouth or body can also be selected.
Unique synchronous tool holder, within the specification range, no need to replace the tool holder. If you need to change the specifications, you can quickly complete it within 5 minutes.
Wide range of application: suitable for various plastic bottles, glass bottles, PVC, PET, PS, iron cans and other containers, such as food, beverages, cleaning supplies, medicines, wine bottles, etc.
High-quality positioning accuracy: Fully mechanical transmission design, using mandatory label labeling, suitable for various film materials with a film thickness of 0.030MM or more, and the inner diameter of the film material can be adjusted in the range of 5-10.
Low maintenance cost of consumables: This machine adopts low-cost disposable blades, which are easy to replace and have low cost burden.
◆ Applicable labels: self-adhesive labels, self-adhesive films, electronic supervision codes, bar codes, etc.
◆ Applicable products: products requiring labels or films to be attached to the circumferential surface.
◆ Application industry: widely used in food, medicine, cosmetics, daily chemical, electronics, hardware, plastic and other industries.
◆ Application examples: PET round bottle labeling, plastic bottle labeling, food cans, etc.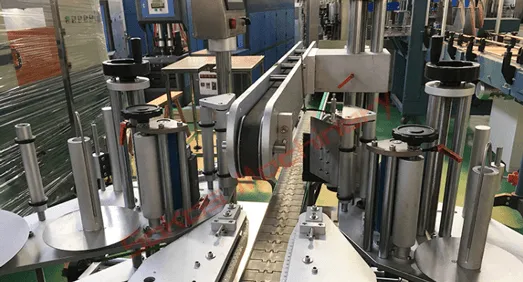 ◆ The labeling quality is excellent, and the elastic labeling belt is adopted, the labeling is flat and wrinkle-free, and the packaging quality is improved;
◆ Flexible application, stand-up labeling of bottles, with automatic bottle separation function, can be produced on a single machine or connected to an assembly line;
◆ Intelligent control, automatic photoelectric tracking, with the functions of nothing but no labeling, no label automatic correction and automatic label detection, to prevent missing labels and label waste;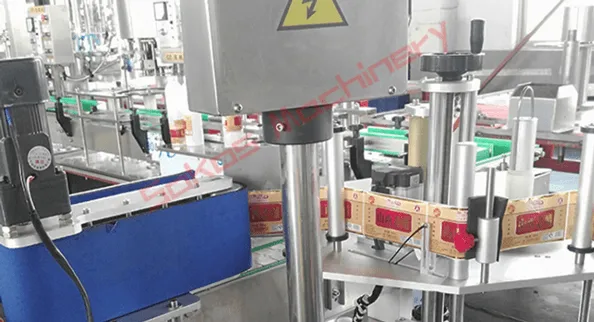 ■Modular design of hardware circuit to ensure stable and efficient operation of the circuit .
■Appearance design combines European car design concepts, smooth lines and beautiful appearance
■The structure adopts independent air duct design, the fan can be disassembled freely, and the heat dissipation is good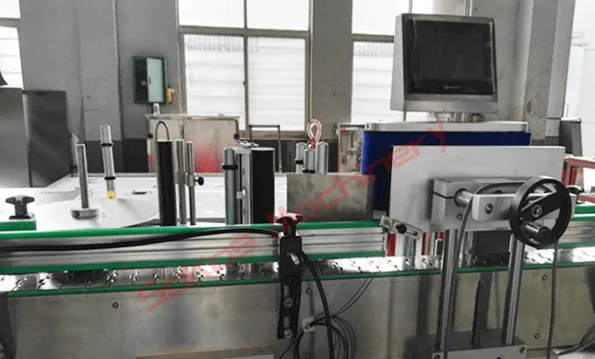 ◆ High stability, advanced electronic control system composed of Panasonic PLC+ Panasonic touch screen+ Panasonic needle-shaped electric eye + German Leuze label electric eye, supporting 7×24 hours operation of the equipment;
◆ The adjustment is simple, the labeling speed, conveying speed, and bottle separation speed can be adjusted steplessly, and adjust as needed;
◆ Rugged and durable, adopting a three-bar adjustment mechanism to make full use of the stability of the triangle, the whole machine is solid and durable. Made of stainless steel and high-grade aluminum alloy,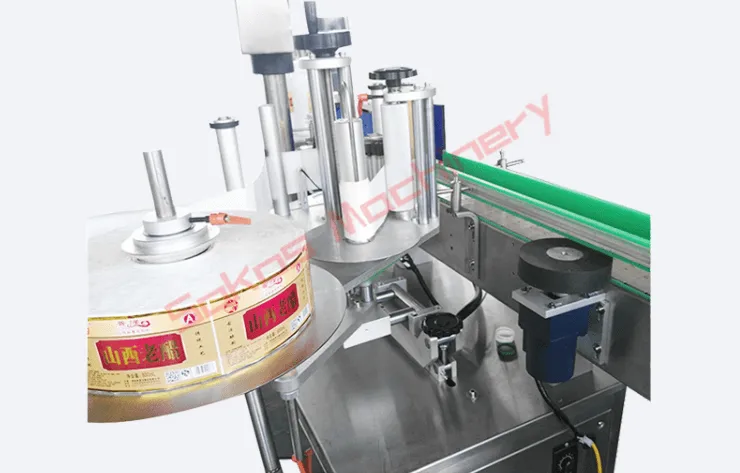 Q: Are you a manufacturer or a trading company?
A: We are the source factory with 24 years of manufacturing experience in beverage machinery. Located in Jinfeng Town, Zhangjiagang City, Jiangsu Province, China. The transportation is convenient, very close to Pudong Airport and Sunan Shuofang Airport. If your itinerary includes a factory visit, we will pick you up.
Q: Do you have relevant certificates?
A: We have SGS, ISO, CE
Q: How long is your delivery cycle after you order the machinery?
Ar: Generally it is 40 working days.
Q: What kind of bottles can your filling machine fill? What is the capacity? How much output can be achieved?
A: The bottles can be glass bottles, plastic bottles, special-shaped bottles, cans, etc. The capacity can be from 200~2000ml. The output can meet 1000~20000BPH
Q: Do you have a relevant after-sales system?
A: We have a sound after-sales system.
1: 24 months warranty.
2: Many-to-one service, we will solve basic problems through phone, email, whatsapp, WeChat and video calls. The operation manual will be sent with the machine or via e-mail.
3: If conditions permit, the engineer will go to the buyer's factory to install and test the machine, and train the buyer's staff on how to operate and maintain the machine.
Q: If our bottle size changes, can we make some adjustments on the machine according to our new bottle?
A: Yes. We will customize the mechanical design according to the customer's needs and make the final confirmation.
Q: If I want to buy a machine, what information do I need to tell you?
A:
1: What liquid do you want to fill?
2: What is the capacity and height of the bottle?
3: What is the output in one hour?
4: Related water quality analysis reports, etc.
5: Required mechanical voltage
Q: What kind of products do you offer?
A: We provide drinking water/juice/carbonated drinks/energy drinks/sparkling water/5 gallons/20L whole line solutions.
The machinery includes: water treatment system, blending system, bottle blowing machine, filling machine, labeling machine, film wrapping machine, inkjet printer, carton packaging machine, etc.
Q:How to ensure that you deliver goods on time and ensure the safety of my funds?
1:We guarantee the on-time delivery and quality of the equipment you purchase through the credit insurance service of the Alibaba platform.
2:With the letter of credit, you can easily lock in the delivery time.
3:After visiting the factory/video watching the factory, you can ensure the authenticity of our bank account.
Q:How do you ensure the quality of the machine?
1:To ensure the accuracy of parts. We are equipped with a variety of professional processing equipment, plus professional processing methods accumulated over the years.
2:Before the machine is assembled, each part is inspected by the inspector.
3:Assemble machines, all with masters with more than 5 years of work experience to operate.
4:After all the equipment is completed, we will connect all the machines and allow at least 12 hours for a complete production line. To test its stability