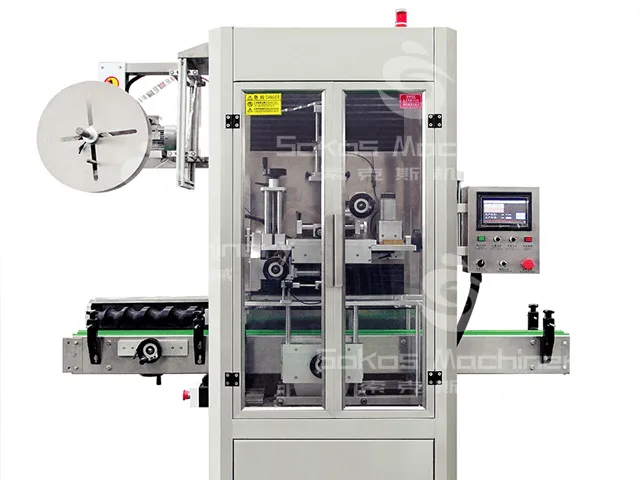 The fully automatic round bottle sticker labeling machine stands as a pinnacle of efficiency in the realm of labeling technology. With a diverse applicability, it adeptly meets the labeling needs of round bottles, whether for complete circumferential labeling or half-circle labeling. Its versatility extends to accommodating different bottle sizes seamlessly, allowing for a quick and straightforward label switch between bottles.
This labeling machine not only simplifies the complex process of round bottle labeling but also facilitates easy adjustments, ensuring precision and accuracy. Its user-friendly design enables operators to navigate through label switching and size adjustments with ease, enhancing the overall efficiency of the labeling process.
The fully automatic round bottle sticker labeling machine emerges as a technological solution that streamlines the labeling of round bottles, offering a wide range of applications. Its adaptability to various bottle sizes, simple label switching capabilities, and user-friendly adjustments make it an indispensable asset in industries where efficiency and precision are paramount. This labeling machine is not just a tool but a transformative technology that elevates the labeling process to new levels of convenience and accuracy.
Highly stable mechanical structure: the whole machine adopts stainless steel protective frame cover The aluminum alloy rigid frame is stable and does not rust.
Flexible choice of a variety of bottle types: round bottle, square bottle, oval bottle, etc. can be set, and bottle mouth or body can also be selected.
Unique synchronous tool holder, within the specification range, no need to replace the tool holder. If you need to change the specifications, you can quickly complete it within 5 minutes.
Wide range of application: suitable for various plastic bottles, glass bottles, PVC, PET, PS, iron cans and other containers, such as food, beverages, cleaning supplies, medicines, wine bottles, etc.
High-quality positioning accuracy: Fully mechanical transmission design, using mandatory label labeling, suitable for various film materials with a film thickness of 0.030MM or more, and the inner diameter of the film material can be adjusted in the range of 5-10.
Low maintenance cost of consumables: This machine adopts low-cost disposable blades, which are easy to replace and have low cost burden.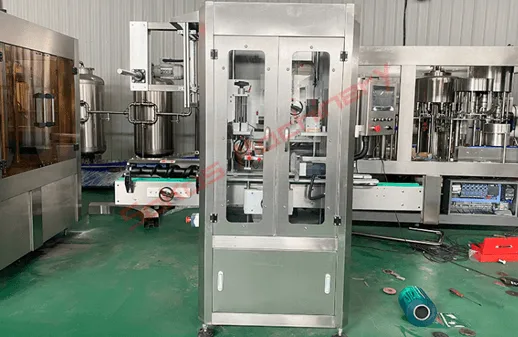 Sleeve Labeling Machine – Main Machine.
Machine group: The whole machine adopts a stainless steel body to support the main machine and fix the conveyor belt.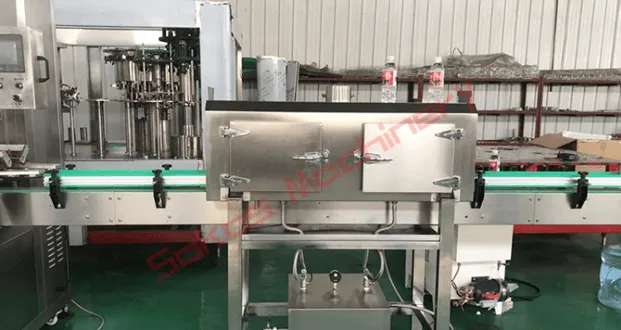 Sleeve Labeling Machine – Shrinking Furnace.
Use electric heat or steam heat to shrink and evenly attach the label to the bottle.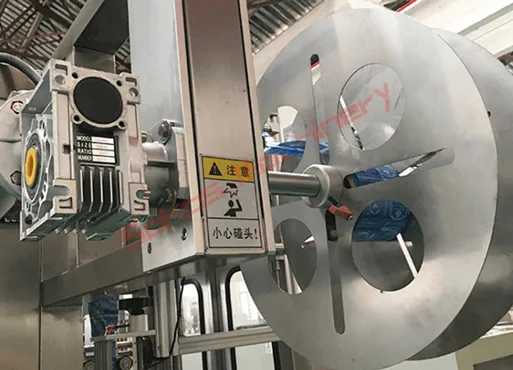 Material rack group
Save the time of changing materials, the discharge is fed by a set of conveying roller reduction motors.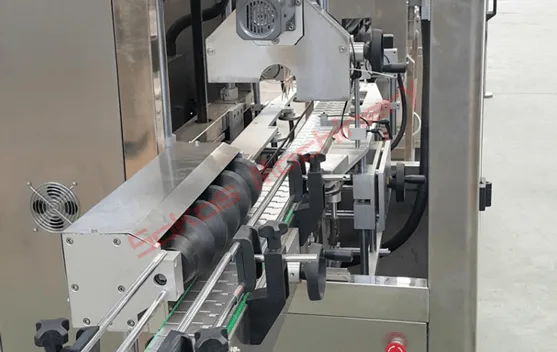 Bottle-separating screw
Separate the bottles to be set at equal intervals and enter the bottle group.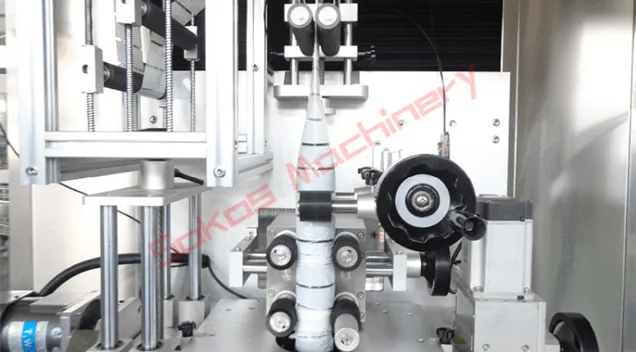 Center column
The label film material is sleeved and opened, so that the film material can be conveyed and cut.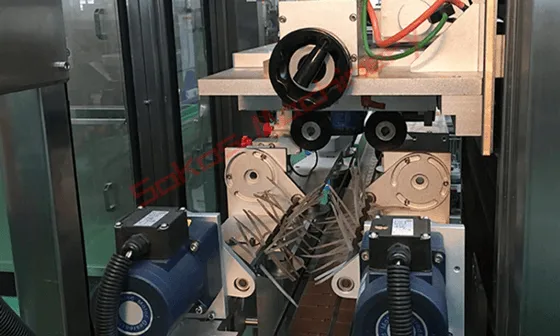 Brush-down group
Using a synchronous adjustment mechanism, adjust the brush-down two sets of transfer wheels to slightly touch the rollers under the center column. When the label passes, the label is inserted into the bottle at a higher speed.
Q: Are you a manufacturer or a trading company?
A: We are the source factory with 24 years of manufacturing experience in beverage machinery. Located in Jinfeng Town, Zhangjiagang City, Jiangsu Province, China. The transportation is convenient, very close to Pudong Airport and Sunan Shuofang Airport. If your itinerary includes a factory visit, we will pick you up.
Q: Do you have relevant certificates?
A: We have SGS, ISO, CE
Q: How long is your delivery cycle after you order the machinery?
Ar: Generally it is 40 working days.
Q: What kind of bottles can your filling machine fill? What is the capacity? How much output can be achieved?
A: The bottles can be glass bottles, plastic bottles, special-shaped bottles, cans, etc. The capacity can be from 200~2000ml. The output can meet 1000~20000BPH
Q: Do you have a relevant after-sales system?
A: We have a sound after-sales system.
1: 24 months warranty.
2: Many-to-one service, we will solve basic problems through phone, email, whatsapp, WeChat and video calls. The operation manual will be sent with the machine or via e-mail.
3: If conditions permit, the engineer will go to the buyer's factory to install and test the machine, and train the buyer's staff on how to operate and maintain the machine.
Q: If our bottle size changes, can we make some adjustments on the machine according to our new bottle?
A: Yes. We will customize the mechanical design according to the customer's needs and make the final confirmation.
Q: If I want to buy a machine, what information do I need to tell you?
A:
1: What liquid do you want to fill?
2: What is the capacity and height of the bottle?
3: What is the output in one hour?
4: Related water quality analysis reports, etc.
5: Required mechanical voltage
Q: What kind of products do you offer?
A: We provide drinking water/juice/carbonated drinks/energy drinks/sparkling water/5 gallons/20L whole line solutions.
The machinery includes: water treatment system, blending system, bottle blowing machine, filling machine, labeling machine, film wrapping machine, inkjet printer, carton packaging machine, etc.
Q:How to ensure that you deliver goods on time and ensure the safety of my funds?
1:We guarantee the on-time delivery and quality of the equipment you purchase through the credit insurance service of the Alibaba platform.
2:With the letter of credit, you can easily lock in the delivery time.
3:After visiting the factory/video watching the factory, you can ensure the authenticity of our bank account.
Q:How do you ensure the quality of the machine?
1:To ensure the accuracy of parts. We are equipped with a variety of professional processing equipment, plus professional processing methods accumulated over the years.
2:Before the machine is assembled, each part is inspected by the inspector.
3:Assemble machines, all with masters with more than 5 years of work experience to operate.
4:After all the equipment is completed, we will connect all the machines and allow at least 12 hours for a complete production line. To test its stability